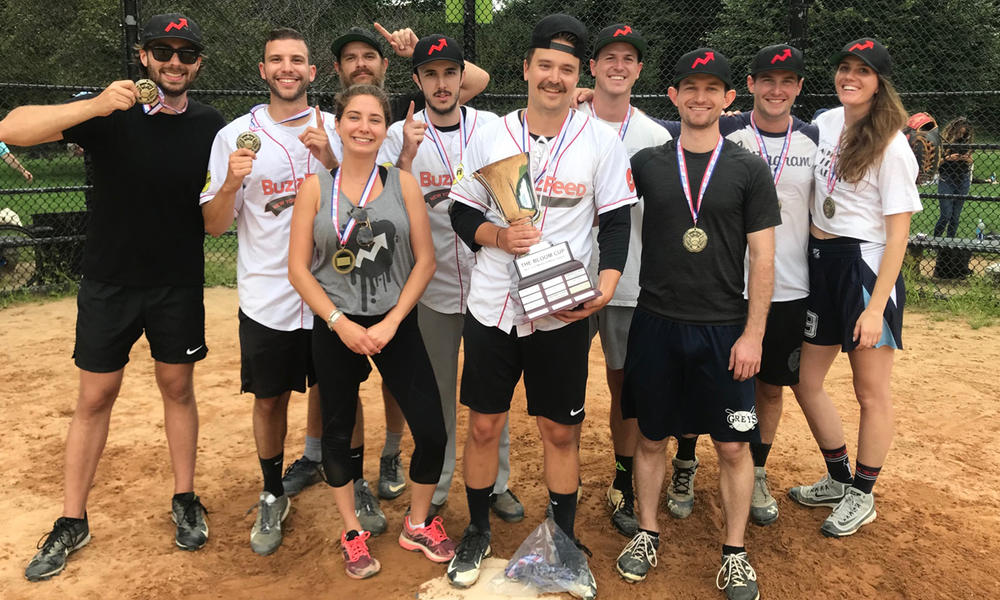 It had been six years since any other team than High Times and Wall St. Journal won the NYMSL championship.
BuzzFeed broke that streak on Sunday, September 8 with big victories over WSJ and Forbes to earn the 2019 media softball title.
Institutional Investor took it in 2013, then HT and WSJ ganged uo to win the next five.
In the semifinal matches, WSJ knocked off their longtime rival and current league champ, the Bonghitters, 3-2, and BF came from behind to steal one from Forbes, 6-5. In the latter game, FB built an early 5-0 lead, only to see it disappear. BF plated a the winning run in the bottom of the sixth. FB went scoreless in the 7th.
In the championship game, BF came out swinging and put five runs on the board in the 1st. WSJ came back with three in the 3rd, but BF answered immediately, extending their lead again to five runs. WSJ would not come back in this contest. The final score was 10-4
In the league just four years, BuzzFeed became only the fifth team ever to hoist the Bloom Cup trophy.
WSJ has won it 6 times, HT 4, and Institutional Investor and BusinessWeek once. Forbes, New York Public Radio and Chartbeat have yet to register a championship.
In the consolation game, FB defeated HT, 11-7.