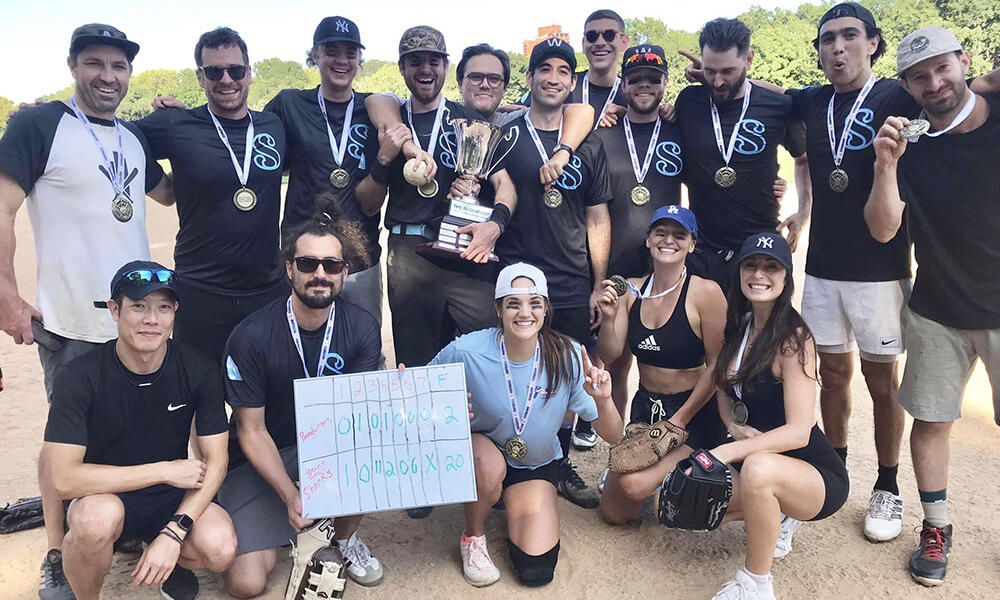 After two thrilling semifinals games, Chartbeat dominated High Times 20-2 to win the 2022 New York Media Softball League championship.
The games were played in New York's Central Park Great Lawn (Fields 1 and 3) on September 10.
The 2022 regular season concluded with Chartbeat (9-2) on top, followed by High Times (7-2), Forbes (7-4), BuzzFeed (7-4), New York Public Radio (3-7), Wall St. Journal (3-9) and Euromoney/Institutional Investor (2-10). The top four teams make the NYMSL playoffs and compete for the Bloom Cup. The reigning champion was BuzzFeed.
The opening games featured several comebacks. Down 3-1 in the sixth inning, High Times rallied with five runs to defeat Forbes, 6-3. Meanwhile, Chartbeat and BuzzFeed took a 1-1 tie into extra innings. BuzzFeed grabbed the lead with two runs in the top of the ninth, but Chartbeat stormed back with three as coach Mark Davis slid with his hand at home to seal the victory.
Chartbeat had ony been to the championship game once before, losing to Wall St. Journal. High Times won the first league title in 2007 and again in 2014, 2017 and 2018. But they had also lost seven times in the final game. It would prove to be Chartbeat's day. Riding the momentum of Game 1, the Sharks took it to the Bonghitters with an 11-run outburst in the third inning, followed by two in the fourth and six more in the fifth. HIgh Times could only muster two runs. 
This was the league's 15th playoffs since being founded in 2007. Forbes and NY Public Radio are the only current NYMSL teams to never win the title. The previous NYMSL champions are:
2021: BuzzFeed
2019: BuzzFeed
2018: High Times
2017: High Times
2016: Wall St. Journal
2015: Wall St. Journal
2014: High Times
2013: Institutional Investor
2012: Wall St. Journal
2011: Wall St. Journal
2010: Wall St. Journal
2009: Wall St. Journal
2008: BusinessWeek
2007: High Times