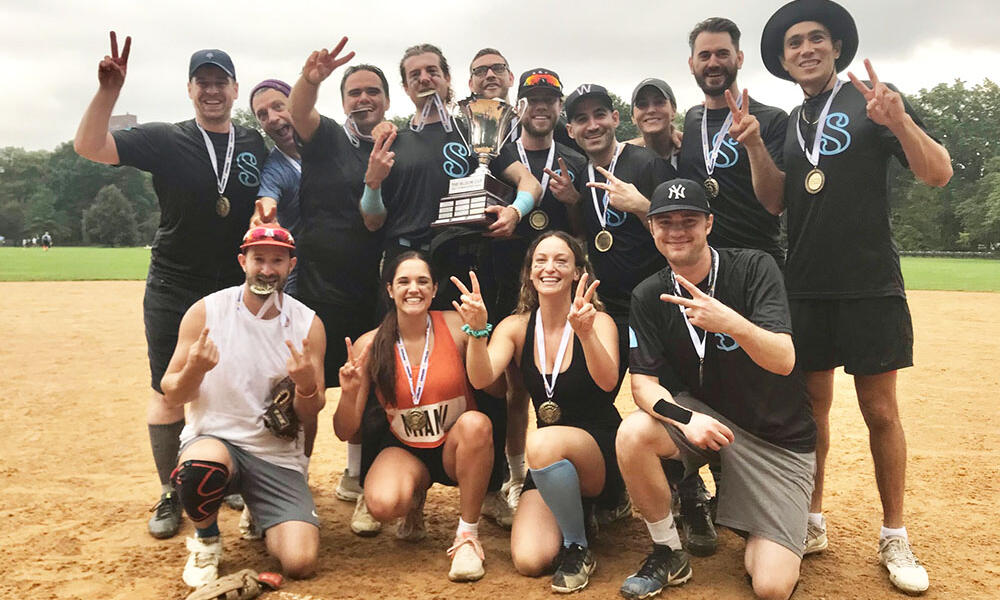 Brooklyn powerhouse Chartbeat dominated the 2023 NYMSL Playoffs on September 9 in Central Park, winning their second NYMSL championship in a row.
After defeating High Times 12-4 in the semifinals, they overwhelmed Wall St. Journal 18-2 in the title game.
In the other semifinal game, WSJ held off BuzzFeed 5-2. Buzzfeed won the consolation game over High Times 9-0.
It was an overcast day in the Great Lawn. Thunder boomed and lightning bolts were seen in the distance. The High Times-Chartbeat game was suspended for 15 minutes due to the lightning.
Chartbeat completed the season with just one loss, a 1-0 shutout by WSJ in July. The two teams split the season series. Chartbeat scored three runs in the first inning against WSJ and didn't look back. Last year, they pasted High Times 20-2 in the title game.
Chartbeat joins BF, WSJ and HT as teams that have won back-to-back titles. WSJ won four in a row from 2009-2012.
The other teams in the NYMSL are Forbes and Euromoney.
League sponsor Cornbread Hemp was in attendance. Jim Higdon, Eric Zipperle and their team handed out CBD gummy samples and chatted with players and onlookers. 
Says Jim, "We had a blast."
Previous Title Holders
2022: Chartbeat
2021: BuzzFeed
2019: BuzzFeed
2018: High Times
2017: High Times
2016: Wall St. Journal
2015: Wall St. Journal
2014: High Times
2013: Institutional Investor
2012: Wall St. Journal
2011: Wall St. Journal
2010: Wall St. Journal
2009: Wall St. Journal
2008: BusinessWeek
2007: High Times