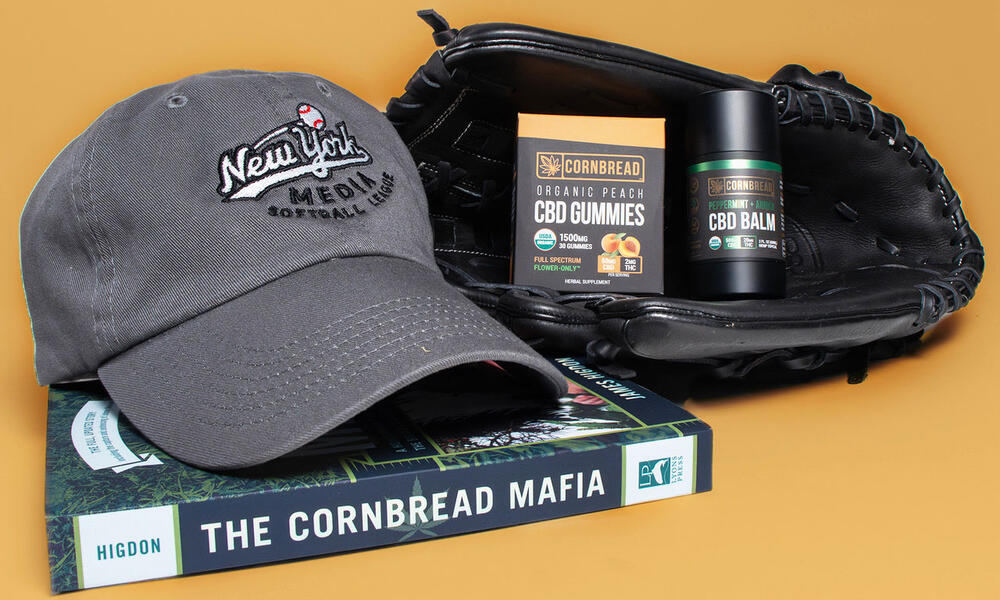 Following the lead of Major League Baseball, which recently announced an official CBD sponsor, the New York Media Softball League has inked a sponsorship deal with Kentucky-based Cornbread Hemp.
In 2022, MLB announced an official CBD sponsor, the first cannabis sponsorship in the history of professional sports. The Chicago Cubs and Kansas City Royals have since announced similar deals. Cornbread Hemp's sponsorship of the NYMSL is the latest such sports sponsorship and the first with a non-professional league.
This partnership began last year, when NYMSL co-founder and commissioner Steve Bloom received an email from Cornbread Hemp's Jim Higdon pitching the idea. "I was surprised to say the least," Bloom said. "But we're actually the perfect league for Cornbread Hemp to get the ball rolling."
In addition to co-founding Cornbread Hemp with Eric Zipperle, Higdon is author of the nonfiction bestseller The Cornbread Mafia and a veteran journalist who previously lived in New York, where he attended the Columbia Journalism School. While promoting the book's release in 2012, he met several High Times staffers who told him about the NYMSL and their legendary softball team, the Bonghitters.

When MLB announced its CBD sponsorship in October, the light went off in Higdon's head, and he decided to contact the NYMSL.
"The players in this league represent an important segment of Cornbread Hemp's customer base – active adults dealing with the aches and pains that come from exercise-induced inflammation," co-founder Jim Higdon said. "And it doesn't hurt that they work for some of the best news outlets in America." 
Founded in 2007, the NYMSL consists of High Times, Forbes, BuzzFeed, Wall Street Journal, Euromoney/Institutional Investor and current champions, Chartbeat. Games are played in parks around the city, from May to September. 
"Our mission at Cornbread Hemp is to improve the quality of our customers' lives," CEO Eric Zipperle said. "This partnership gives us the opportunity to share that mission with the players of the New York Media Softball League." 
As part of the sponsorship, Cornbread Hemp plans to come to New York for the NYMSL playoffs in Central Park on September 9.
Each player receives a promotional hat embroidered with logos of both entities and Cornbread Hemp products, including CBD gummies and CBD topicals, which can help with exercise-induced pain and inflammation typical in adults who play organized sports well past their college years.
"I know our players will benefit from the effects of CBD provided by Cornbread Hemp," added Bloom. "Athletes have been at the forefront of the movement to use cannabinoids, rather than pharmaceuticals, to treat sports injuries. Our players have similar needs and are happy that Cornbread Hemp has stepped up to the plate to make this historic relationship happen."
The 2023 NYMSL season is underway. The next three months will determine who wins the 16th title.
About Cornbread Hemp
Founded in 2019 by CEO Eric Zipperle and Jim Higdon, Cornbread Hemp provides premium full spectrum CBD products to online customers across the United States and in natural food retailers including Fresh Thyme Markets. Built on Kentucky's 250-year cannabis tradition, Cornbread Hemp has become a national leader in hemp CBD wellness products.
About the NYMSL
After 15 years of playing each other informally, the New York Media Softball League came together in 2007 with founding members High Times, Forbes, Wall Street Journal, DC Comics, BusinessWeek, WNYC, Institutional Investor and Trader Monthly. Some teams have left and others joined, but the league has survived – even through three years of Covid (the 2020 season was canceled). Founded by cannabis media veteran Steve Bloom and current Forbes editor-in-chief Randall Lane in 2007, the NYMSL is intended for media companies to meet and compete on fields all over New York, but mostly in Central Park. Previous champions have included Wall Street Journal (six times), High Times (four), BuzzFeed (twice) and Euromoney/Institutional Investor (once).
For more information or to request interviews, please contact:
Stu Zakim, Bridge Strategic Communications
stu@bridgestrategic.com
732-754-9051