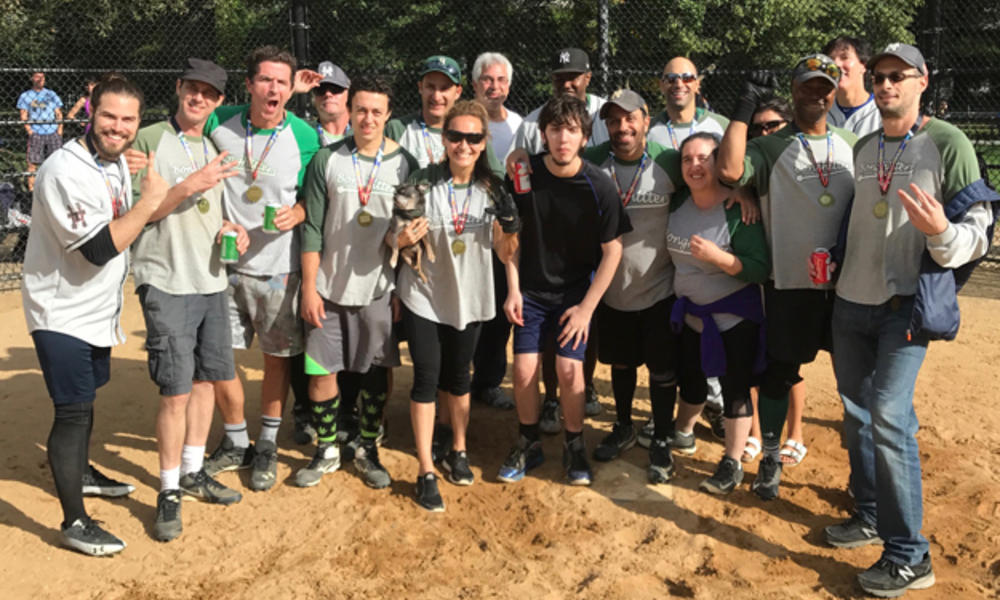 High Times won their third NYMSL championship on Sept. 9 in Central Park with a 4-3 extra-inning victory over arch-rival Wall Street Journal. A walkoff single by Jason Mills off Chris Morino was the difference.
The Bonghitters took an early 3-1 lead, but the Journals chipped away with runs in the fourth and fifth innings. Rob Agueli went the distance (eight innings) for the victory.
In the semifinal matches, High Times defeateed New York Public Radio, 12-3, and Wall Street stymied Forbes, 5-1. It was Forbes over NYPR, 11-2, in the consolation game.
High Times and Wall St. Journal have met five times in the championship game, with Wall Street taking three of the contests, in 2009, 2010 and 2011. High Times bested Wall Street the last time they met in the finals. Wall St. Journal was seeking a three-peat after title victories over Chartbeat in 2016 and New York Public Radio in 2015.
The previous NYMSL champions are:
2016: Wall St. Journal
2015: Wall St. Journal
2014: High Times
2013: Instututional Investor
2012: Wall St. Journal
2011: Wall St. Journal
2010: Wall St. Joural
2009: Wall St. Journal
2008: BusinesWeek
2007: High Times
The New York Media Softball League currently consists of seven teams: High Times, Wall St. Journal, Forbes, New York Public Radio, BuzzFeed, Chartbeat and Institutional Investor. The league was founded in 2007.