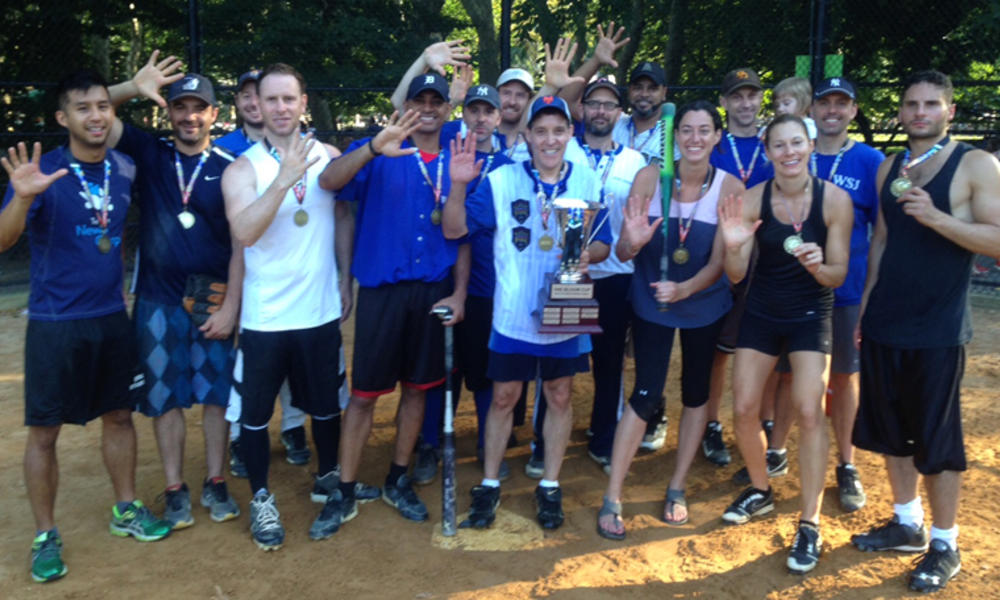 In a major come-from-behind victory, Wall Street Journal defeated underdog WNYC in the 2015 NYMSL championship game on Sept. 19 in New York's Central Park.
Fourth-seed NYC (6-6) knocked off top-seed High Times (11-1) in the semifinals, 10-8, and held a lead over second-seed WSJ (9-3) - who bested third-seed Forbes (7-5) in the other semifinal match, 9-2 - until there were two outs in the seventh inning. But an infield error allowed the tying run to score, knotting the game at 5-5. Four innings later, in the 11th, WSJ pushed the winning run across on another botched infield play. Russ Adams went the distance for the Journals.
It's the fifth NYMSL championship for Wall Street Journal; the others came in 2009, 2010, 2011 and 2012.
NYC took an 8-3 lead in the opening match against High Times. The Bonghitters fought back gamely, scoring five runs with two outs in the seventh, but ultimatley left the tying run on base.
WSJ jumped out to an early 4-0 lead over Forbes and coasted to victory. In the consolation game, Forbes trumphed over High Times, 7-3,
The other teams to win NYMSL titles are High Times (2007, 2014), Business Week (2008) and Institutional Investor (2013).
The winner receives the Bloom Cup trophy and indiviuaul medallions for each player.
We'll be back next spring for the 10th NYMSL season.